*sorry I took this down for a while, apparently not all of my post showed up

I first would like to apologize for my lack of posting recently. I've been bopping around California, working, living, whatever, and I haven't felt a whole lot of inspiration for blogging. And of course, this past week has been spent dwelling in Harry Potter-ness. (Yeah, if you didn't know, I'm a gigantic Harry Potter fan. I can tell you almost any fact you need to know) I saw the final movie three times already (am I embarrassed to admit that? Absolutely not!) and oh, it was beautiful. Of course the movies are wonderful for their amazing visual representations of the beloved series we grew up with, but as a fashionaphile I would like to acknowledge the costumes that made Harry Potter more magical, especially in the later films.
So let's recall some of my favorite fashion moments throughout the films:
Fleur de Lacour, the French beauty from Beauxbaton, in her Yule Ball gown. Fleur is supposed to be this gorgeous girl (she is half Veela, after all) but I love how she is sultry without being overt. The Harry Potter girls in general are all lovely, but in the wizarding world their wits matter just as much, if not more, than their looks, a powerful lesson.
Luna Lovegood, my absolute favorite Harry Potter character and fashion/life inspiration, in the dress she wears to Bill and Fleur's wedding. Luna is like this perpetual beacon of sunshine and her cheery yellow dress exemplifies such optimism -even in dark times as Voldemort gains control of the wizard world- and I admire that so much about her.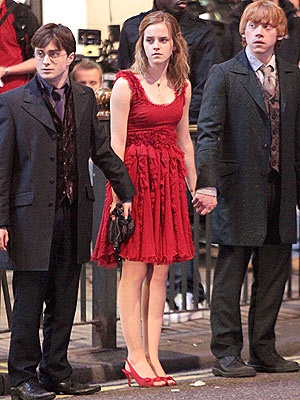 Another display of how the Potter girls can look good while simultaneously fight off dark wizards. Hermione's bright red dress in the seventh film is perfect, especially against the blacks and greys of everyone around her. BONUS: her bag may look tiny, but unlike muggles who could store maybe some lipgloss and a credit card, tops, her magical purse holds everything the trio needs for a wicked escape.
Deathly Hallows Part Two
, blows up a bridge, gives an emotional speech, kills that last horcrux, and gets the girl, all while wearing a cardigan. Badass enough for you?
Quibbler
), unicorn-print skirt, and waist-length blonde hair. I actually dressed like this for the premier (yeah I am a big dork, you now realize this) but I've actually been taking a lot of inspiration from Luna's style as of late- her colors, her effortless combination of fabrics and prints,- she really is one of my fashion icons.
Last but not least...
Hermione's Yule Ball dress is without a doubt my favorite fashion moment of the film series- one of the best moments of
Harry Potter
, period. Some people argued that this signaled the end of smart, "looks aren't important" Hermione, but I believe this was an absolute Cinderella moment. She didn't become some beauty-obsessed bimbo, but rather, I feel that Hermione realized she could have both beauty
and
brains. But seriously, how can anyone watch the scene of her coming down the stairs and not go, "whoa." True beauty right there.
(images not mine)